Let It Snow For the Sake of Free Busch Light
And I thought Christmas was already over:
MINNEAPOLIS — Busch beer drinkers have been weathering all the jokes and teasing, waiting for their moment to shine. Well, here it is. Anheuser-Busch is offering a $1 rebate for every inch of snow that falls in select cities between Jan. 1 and March 20, 2020. The rebates apply to Busch, Busch Light, Busch Ice and Busch NA. (Kare11)
THIS IS NOT A DRILL, I REPEAT, THIS IS NOT A DRILL
I thought it was clickbait at first, and I was really hoping that this wasn't like the rumored "77 pack of beer" that Natural light was offering a few years ago. Or the "Busch Lattee" cans that took over 2 years to hit the midwest. But it seems as if the beer gods have sent a present from above to the land of alcoholics.
This is what I would call the most wild and financially risky bet that a company could ever make against a thirsty population. $1 off for every inch of snow that falls between Jan 1st and Mar 20th, for EVERYONE. Not to mention Minnesota isn't even the only state that's in on the deal, it also includes:
Wisconsin

Iowa

Michigan

North Dakota

Nebraska

New York
If I'm not mistaken, there isn't a flying chance in hell that Anheuser-Busch survives this right? I mean these 7 states alone probably consume 60% of the nation's alcohol as it as, let alone they are the some of the snowiest states in the country. It just seems like a bad business decision that I am 100% all for.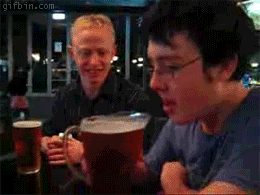 Just for stats, Minnesota alone had a little over 54 inches of snow last winter. Hell, we're even on track for 10 inches (thats what she said) over the next three days, which is half of your 30 rack right there!
I was "fuck snow" train along with everyone else until now. But at this point in time, I would welcome a big blizzard as long as I can make it to the liquor store!