UFC 249 IS CRAZY!! (UFC 249 Betting Odds and Predictions)
Dana White said that the UFC would be the first sport back up and running since Covid-19 shut the sports world down and if it wasn't for Korean Baseball starting back up, he would have been right. The UFC is back Saturday, May 9th and the timing couldn't be better. I NEED SPORTS BACK ASAP. I can no longer put up with the Sports Center Twitter account posting shit like this:
(Fun fact: that's Bubba's cousin on the right)
Let's dive into the STACKED UFC 249 main card including the Vegas betting odds and a few predictions from the degenerates over here at 10,000 Takes.
Heavyweight Bout: Greg Hardy vs Yorgan De Castro
Betting Odds: Greg Hardy (-190) vs. Yorgan de Castro (+165)
My Thoughts: Remember Greg Hardy? The dude played 5 years in the NFL until he was charged with domestic assault. Now, he fights in a cage for a living and faces the reality that fans are only tuning into his fights in hope that he will get the shit kicked out of him. Hardy has fought 5 times in the UFC and has a record of 2 wins, 2 losses, and 1 no-contest when it was discovered that Hardy used an inhaler in between rounds of a fight that he won (which is very illegal). He's learned that it's a littler tougher to fight a man. Hardy's opponent, Yordan De Castro (6-0), is a solid middle of the road Heavyweight who utilizes leg kicks to work his way into striking range. De Castro won by KO in the first round in his only UFC fight to date.
My Prediction: Almost all Heavyweights have big power, but few possess the athleticism of former NFLer Greg Hardy. I believe that Hardy's power mixed with his athleticism will overpower De Castro and land him a 2nd round TKO. But I wouldn't be sad if De Castro Ko'd his second straight opponent.
Coleman's Prediction: De Castro by decision
Bubba's Prediction: Hardy KO, Rd 1
Featherweight Bout: (#7) Jeremy Stephens vs (#9) Calvin Kattar
Betting Odds: Calvin Kattar (-250) vs. Jeremy Stephens (+210)
My Thoughts: This is going to be an action-packed fight and I have no clue what to expect. These are 2 savages who are always down to be aggressive as hell. For those of you who may not know who Jeremy Stephens is let me remind you. Besides always going for the knockout Stephens is best known for being the guy who Conor McGregor said "Who the Fook is that guy?" to and set the internet on fire.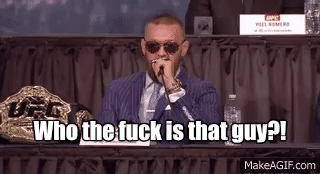 Stephens has not won in any of his last 4 fights, but he was facing some of the best Featherweights in the world including Yair Rodriguez, Zabit Magomedsharipov, and former Featherweight Champion Jose Aldo. Calvin Kattar is coming off a loss to Zabit Magomedsharipov, but before that he was 4-1 in the UFC which includes TKO wins over Ricardo Lamas, Chris Fishgold, and Shane Burgos. Unfortunately, Stephens missed weight, which really fucks with my fight prediction below.
My Prediction: This is a tough fight to call. Both guys are known for having knockout power and for refusing to quit. If Stephens didn't miss weight I would be betting on Kattar to pull out a tough decision win, however, seeing that over 60% of fighters who miss weight have won in recent bouts (overweight fighters have won 21 out of the last 34 fights where someone missed weight) I will be going with Jeremy Stevens to win via KO in the first round. Since Stevens missed weight by 4 pounds his body will be able to recover faster and will result in Stephens having an easier time regaining his power after his cut. However, if Kattar can withstand the early storm he may be able to pull out a decision in this one.
Coleman's Prediction: Stevens KO, Rd 3
Bubba's Prediction: Stevens KO, Rd 1
Heavyweight Bout: (#2) Francis Ngannou vs (#6) Jairzinho Rozenstruik
Betting Odds: Francis Ngannou (-275) vs. Jairzinho Rozenstuik (+235)
My Thoughts: Talk about a banger!! This fight is between the Hardest Hitters in the Heavyweight Division. Remember when Francis Ngannou decapitated Alistair Overeem?
Well Jairzinho Rozenstruik hit Overeem so hard that Overeem's lip exploded!
Francis Ngannou is coming off of THREE FIRST ROUND KO's. I was lucky enough to watch his last KO live in Minneapolis when Ngannou steamrolled over Junior dos Santos in a little over a minute. Rozenstruik, on the other hand, is undefeated in his professional career holding a 10-0 record and a 4-0 record in the UFC. Out of his 10-pro wins, 9 of them came by KO. This fight will 100% result in a finish, take that to the bank.
My Prediction: Although both fighters have crazy power, I have to go with my guy Francis Ngannou. After his two losses to Derrick Lewis and Stipe Miocic, Ngannou seems to be in a new, unstoppable form. Since Rozenstruik's greatest attribute is his power, he will have to stand and trade with Ngannou which seems to be a death sentence for anyone lately. I have Ngannou winning by KO in the first round.
Coleman's Prediction: Ngannou Ko, Rd 2
Bubba's Prediction: Ngannou KO, Rd 1
Co-Main: Bantamweight Title Bout (C) Henry Cejudo vs (UR) Dominick Cruz
Betting Odds: Henry Cejudo (-225) vs. Dominick Cruz (+185)
My Thoughts: We all know Dominick Cruz is a legend, even so, it's weird to see a non-ranked fighter who has not fought in about 4 years fight for the belt. Cruz is challenging the self-proclaimed "King of Cringe" and Olympic gold medalist Henry Cejudo for the Bantamweight title. This fight has a little bit of everything. A stand-up fighter and former champion in Cruz risking it all to get the belt back. A wrestler and double-UFC Champ in Cejudo who is no stranger to accomplishing what many view as impossible. I have no clue what this fight is going to look like when it finally comes to fruition.
My Prediction: I am tossing logic out the window for my prediction because both of these guys defy logic. Cruz has repeatedly come back from long layoffs and beat the best in the world, proving that there is no such thing as ring-rust. Cejudo, on the other hand, is just used to doing the impossible. No one thought he could beat Demetrius Johnson for the flyweight belt but he did. Very few thought he would win a gold medal, but he did. All he does is overcome every obstacle in his way. Logically, most people would say Cejudo should win. He is an active fighter who keeps rising to the occasion and pulling off wins. However, as I said earlier I am not thinking logically for this one. I'm taking Dominick Cruz to somehow pull off a decision and prove to the world that ring-rust is not real.
Coleman's Prediction: Cejudo by decision
Bubba's Prediction: Cejudo by decision
MAIN EVENT: Lightweight Interim Title Bout (#1) Tony Ferguson vs (#4) Justin Gaethje
Betting Odds: Tony Ferguson (-185) vs. Justin Gaethje (+160)
My Thoughts: I know we all wanted Khabib vs Tony but this fight is the next best thing. Tony Ferguson is fucking crazy. Everything he does from his workout routines to his fighting style to his in-cage mentality are all signs of a fucking psychopath. His craziness is what makes him such an elite fighter.
His opponents don't know what's coming and he would rather break his arm in half than tap. Tony has won an unheard of 12 straight fights in the UFC. The only other active fighter with a winning streak of that length is Khabib, who has also has won 12 straight fights in the UFC. Tony's opponent, Justin Gaethje, has the same crazy mentality that Ferguson has. Gaethje has won 7 performance bonuses in only 6 fights in the UFC, living up to his nickname "The Highlight". Gaethje is coming off of three first-round KO's and really is a walking highlight reel. This fight guarantees violence, blood, and high-level decision making with dire consequences. Can you think of a better way to spend a Saturday night?
My Prediction: I can't bet against Ferguson here. He has more versatility than Gaethje while being able to match Gaethje's "I'm willing to die in this cage" mentality. Man, it really sucks betting against someone who I really admire.
Coleman's Prediction: Ferguson by 3rd round sub (D'arce)
Bubba's Prediction: Ferguson by 3rd round KO
Let us know who you've got.